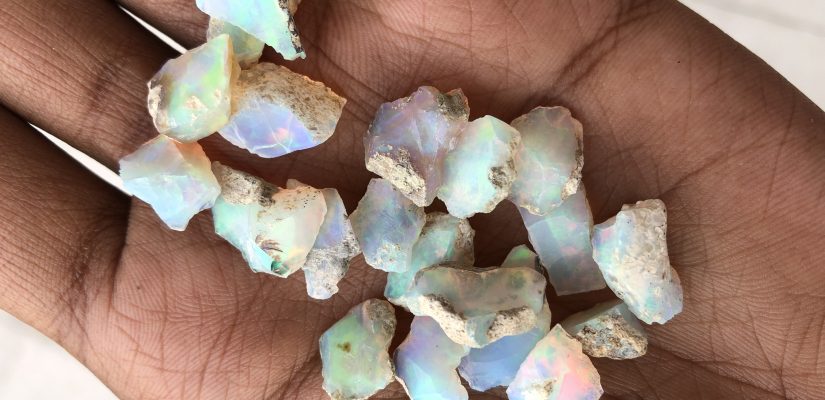 "Queen of gemstones": Ethiopian Opals
Ethiopian opals were first discovered back in 1994, in the Welo district of Ethiopia. A time when Australian opal trade was in its heyday, the arrival of these bright, whimsical, and, heart throbbing gemstones proved to be a blow to former's opal exports. Ethiopian opal beads, rings, bracelets attracted the attention of international markets in no time. Soon the demand of Ethiopian ones outgrew Australian ones, and now they are staggering 94% of International Opal sale. Their "Diamond charm" aura and unlike diamond prices only added fuel to their export figures.
Properties of Ethiopian Opals
They are also called as Ethiopian "hydrophane" opals because of their water absorbing capacity. Making them more durable and resistive to cracking. Much of the this "Welo" opals, the ones found in Welo district of Ethiopia, are derived from a single area of stratified volcanic rocks. But though these opals are water-loving in nature, what makes them more dependable is the fact that revert to their original colour once they are dried.
Also read : Six Fascinating Facts About Moonstones
On a more spiritualistic side, Ethiopian opals are regarded as "Talisman" against bad energy, and is believed by many as an activator of "Sacral chakras". Some even believe that contains healing energies removes the negativity from the holders' surroundings as well from within. Other than the Welo district, another major source of these kinds of opals in Ethiopia is Menz Gishe District. Much of the opals found here carry a wide variety of colours, namely brown, red and orange.
Markets of Ethiopian Opals
Given their durability, charisma, and variety, Ethiopian opal has found their place in big and small countries alike. Among the admirers are USA,  France, Brazil, China, and India.
Taking Care Of Your Opal
Though the water-loving nature of the pearl saves it from crazing, a little care is required from wearer's side to keep the opal in good shape.
They lose their colours after absorbing a certain amount of water, which makes them look faded. All though they revert to their original state once left to dry in a few days.
Keeping them immersed in water for an extended period of time is something advised against. In case you need to wash them, only use warm soapy water and a soft brush.
Also read : Everything You Need To Know About May Birthstone- Emeralds
And try avoiding ultrasonic cleaners and chemical cleaners to clean if you don't wish to make your favorite opal lose its closer to diamond charms in a matter of time.
Gift One to Your Loved Ones!
Legend has it that Queen Shiba of Ethiopia adorned once adorned herself with opals when she visited King of Jerusalem, Solomon. A gemstone of with such lore must be having something to stole something to as important as a queen's heart. So surprise your loved ones this year by gifting them your favourite Ethiopian opal accessory, and fix your spot in their good books. Perhaps, Ethiopian opal beads would do the trick.
More info : https://thejewelcreation.com/