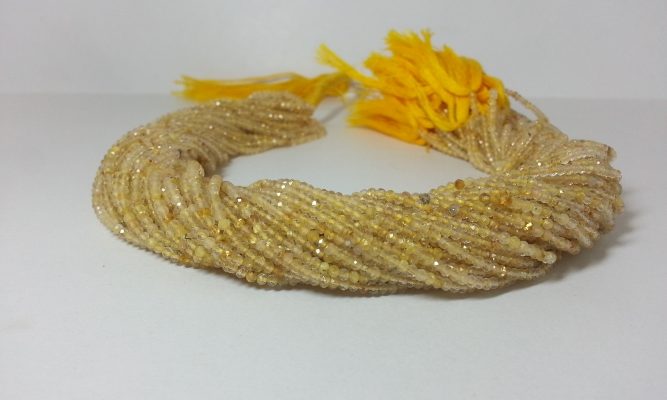 How to Spot Fake Semi-precious Gemstones
Semi-precious gemstones like turquoise, pearl, and jade are in no way any less than their precious cousins diamond, sapphires, and rubies. And when put in the right set of jewelry, they acquire an aura that is next to nothing. But for that to happen, one must know how to determine the real stones, and how to spot a fake. So you do not end up paying big bucks for the undeserving ones. This practice becomes even more important when you are out to buy stones for jewelry making. So here are some tips to help you achieve the feat on your own.
Look for the Flaws
Before we move on and see how to spot fake semi-precious gemstones, let us see a common parameter to tell a real stone from a fake one. While buying bulk gemstones, people often forget that they are natural, and hate to see any irregularity on the surface of their chosen ones. But one must not forget that anything that comes from nature is neither polished nor regular in shape or size. Nature is never flawless. To pass fake stones as the real ones, sellers often polish them to add extra spark or shine. And many times, synthetic gemstones are also denser and heavier than the real ones.
Spotting a Fake Pearl
A simple,and old, method for testing the quality of a pearl is to simply put it into your mouth and to scrap it against your teeth Why so? Because real pearls are actually a piece of grit, so they have a gritty feel when put to the above test. On the other hand, a fake one, due to its polish or other treatments, will have a smoother texture and smoother feel.
Spotting a Fake Jade
Jade is actually very expensive, beautiful, and in-demand even when it is a semi-precious stone. These are the reasons why the stone's reputation has been spoiled by sellers selling fake ones. Among other tests, one simple and easily available testing method to test for a real jade is "Scratch Test". Jade is a very hard substance.It can even scratch many metals and glass. You can simply use your metal scissors to scratch the surface of jade. If white lines appear on its surface which you can easily remove by a gentle rub of your thumb, then it's a real one. As the white lines are the metal residue from the metal of the scissors. But if permanent scratch appears, then go get your refund.
Spotting a Fake Turquoise
While people are often ok while buying a fake turquoise, what bothers mony is not having the knowledge of that very fact. Fake Turquoise stones are in demand as stones for jewelry making, because their beads are much liked by people. But that's no reason to pay a huge amount for a fake, right? The very least that you could do, if you don't wish to go through much hassle, to tell a real turquoise bead from a fake one is to look for the unpolished surface. Real turquoise is much off looking and less shiny than a polished, fake one.
Whether you are buying bulk gemstones, or in a quantity of two or three, there is no reason that you should tolerate toom foolery of corrupt retailers. It's your right to get what you have paid for. So keep the above points in mind while going out to shop for semi-precious stones from next time on.
Visit : thejewelcreation